(Image by: garussell11) Painted Boat Resort celebrates the 4th annual Sunshine Coast Mushroom Festival!; Chocolate Week @ Thierry; LFNG: Portfolio release "Invest in Gold"; Araxi celebrates Cornucopia with Big Guns and Bubbles; Hawksworth announces Zero Proof Pairings; The Bimini 'Do-It-Yourself' Caesar continues into NFL week 5; Umbria regional dinner at Cibo; Cibo is now open for breakfast and lunch
PAINTED BOAT RESORT CELEBRATES THE 4TH ANNUAL SUNSHINE COAST MUSHROOM FESTIVAL!

October 2012 (Sunshine Coast, BC) – Canadian Rocky Mountain Resorts' Sunshine Coast property, Painted Boat Resort, is excited to be a part of the 4th Annual Sunshine Coast Mushroom Festival, October 20, 2012.
The Restaurant at Painted Boat will be hosting a dinner October 20 at 6:30pm, featuring a mushroom themed meal created by Calgary's Divino Wine & Cheese Bistro's Head Chef John Donovan, and the dinner will be paired with wines from Laughing Stock Vineyard in the Okanagan. Tickets are $90 per person, and pre-registration is required. The evening's highlight promises to be speaker Daniel Winkler, author of Beloved Edibles from around the World.
"The night promises to be one filled with amazing local food, the fantastic wines of Laughing Stock, and all kinds of really cool information about local mushrooms and foraging from a world-renowned expert!" enthused Ryan Schmidt, the manager of Painted Boat Resort.
The Mushroom Festival, now in its fourth year, is one of the most highly anticipated and original festivals on the Sunshine Coast. A draw for locals and visitors alike, the festival highlights the abundance of local edible mushrooms, as well as the uses and versatility of these tasty treats. The dinner at The Restaurant at Painted Boat is a popular event and promises to sell out quickly. Tickets can be purchased by calling 604.883.2456.
To make a weekend of it, book a two bedroom villa at Painted Boat Resort, starting at $195 plus tax per night, based on double occupancy. Just a two hour drive from Vancouver, or 20 minute float plane ride, the resort is a true escape from city life. To learn more, visit www.paintedboat.com or call 1.866.902.3955.
Visit www.crmr.com to learn more about Canadian Rocky Mountain Resorts' family of lodges and restaurants.
————————————————————————————-
CHOCOLATE WEEK AT THIERRY: CELEBRATING THE ART OF CHOCOLATE
Vancouver, B.C. (October, 2012) – We are delighted to announce the inaugural launch of Chocolate Week at Thierry Chocolaterie Patisserie Café, a special week dedicated to Chef Thierry's love and passion for all things chocolate.
Taking place from Monday, October 22nd – Sunday, October 28th, Chef Thierry will present an exciting menu of events: from new product launches, to exclusive menu additions and chocolate sampling sessions. A percentage of chocolate sales from each day will be donated to St. Paul's Hospital.
We are also thrilled to present an evening of 'Chocolate + Bubbles', hosted by Chef Thierry himself!
MENU OF EVENTS
Monday – New Product Launch: Real Tahitian Vanilla Chocolate
Tuesday – Chocolate and Bubbles: An Evening with Chef Thierry
Wednesday – 80% Chocolate Menu Additions
Thursday – Michel Cluizel Chocolate-dipped Macarons
Friday – Marañón Chocolate Sampling (5pm – 7pm)
Saturday – Gianduja Liquid Chocolate
Sunday – Seasonal Launch: Dark chocolate Mendiant
Chocolate + Bubbles: An Evening with Chef Thierry
Please join us for a very special evening where guests will be treated to a selection of Chef Thierry's chocolate creations, paired with his favourite bubbles and red wine. This intimate event offers an opportunity to hear from our maître pâtissier himself about his love of chocolate, its preparation and the fine art of chocolate and wine pairings.
Date: Tuesday, October 23rd
Time: 8pm–10pm
Price: $48 + tax
Tickets: please click on the link below or call Gerard Egan at 604 608 6870
Chef Thierry's chocolates are founded in the traditions of his native France, where he learned his craft as a young man. He personally selects only the finest ingredients: fresh fruits and zests, Tahitian vanilla, premium hazelnuts, Quebec maple syrup, and, of course, only the very best chocolate. Then it's off to the climate controlled 'chocolaterie' kitchen, which allows him to make precise, small batches – from the initial chocolate tempering process right through to the final garnish.
For more info, visit: thierrychocolates.com
————————————————————————————-
 LFNG PORTFOLIO 2010 RELEASE – INVEST IN GOLD
We are pleased to announce the release of the 2010 vintage of Portfolio, our flagship Bordeaux style blend. Considered "One of Canada's Icon Wines" (Vines Magazine), Portfolio has culminated into becoming a world-class blend by combining first-class grapes and highly reputable winemaking.
Just announced, this new vintage has already been awarded a GOLD Medal at the Canadian Wine Awards 2012. This is the 3rd vintage in a row that has won GOLD before even being released.
The 2010 vintage combines the five Bordeaux varietals: 42% Cabernet Sauvignon, 32% Merlot,  18% Malbec, 6% Cabernet Franc and 1% Petit Verdot to create a multi-layered complex wine.  This is the first vintage of Portfolio that has a larger percentage of Cabernet Sauvignon than Merlot, thus leaning towards a more Left Bank style and is reflective of the best of the varietals in 2010.
The resulting wine has a nose of dark berries, tobacco and a hint of clove. On the palate, black cherry compote with toasted nuts and will pair well with roasted meats.  Full-bodied the extra Cab Sauv creates a strong backbone that bodes well for aging. More classic Bordeaux than new world.
Price – $42 /750 ml bottle or $504 /case
Order online or call the winery at 250.493.8466 and we'll ship direct to your door.
————————————————————————————-
BIG GUNS: ICONS OF THE WINE WORLD – FRIDAY NOVEMBER 9TH @ 6PM

Whistler, B.C. (October 2012) – As a greatly anticipated annual event, this year's Big Guns: Icons of the Wine World dinner will feature a spectacular collection of highly rated, rare and collectible wines.
On Friday November 9th, seven stellar wineries from the world's top wine regions will come together at Araxi for an exclusive one-off dinner event. Each critically acclaimed wine has been thoughtfully hand-selected by Wine Director Samantha Rahn, in order to deliver a truly unforgettable tasting experience.
"This year the wines I have selected represent complexity and finesse," says Rahn. "We want to open our guests' eyes and palates to some truly unique expressions of grape varieties and diverse regions in a mix of old world and new, tradition and innovation, rule breakers and trend-setters."
Araxi Executive Chef James Walt will create a bespoke seven-course menu that showcases the excellence of Canadian produce, with standout dishes including Wild Mushroom and Local Beef Cheek Ravioli topped with generous shavings of White Alba Truffles. Guest will be treated to a parade of striking flavours such as Northern Divine Caviar, White Grace Cheese from Salt Spring Island and a tasting of Pemberton's six varieties of Famous potatoes from Across the Creek Organics. Each course will be carefully paired to these exceptional wines:
Champagne Billecart-Salmon 'Brut Réserve', France NV
The epitome of harmony, balance and finesse; a family-run Champagne house striving for excellence for nearly two centuries
Casa Marin 'Cipreses' Sauvignon Blanc, San Antonio, Chile 2011
From maverick winemaker + entrepreneur Mariluz Marín, this savoury, complex, mineral-driven wine was awarded 'Best Sauvignon Blanc in the World' in its previous vintage at Decanter Magazine World Wine Awards
Gaja 'Gaia + Rey' Chardonnay, Piedmont, Italy 2009
Rich and full styled white from Piedmontese master Angelo Gaja, this is a unique opportunity to showcase such a rare treasure
Louis Jadot, Domaine des Héritiers, Corton-Pougets Grand Cru, Burgundy 1999
Robert Parker 92 pts
Pretty, mature Grand Cru red Burgundy from the classic house of Jadot highlighting subtle complexities and delicate nuances of flavour
Kosta Browne Russian River Pinot Noir, California 2010
Highly sought after, this Pinot was awarded Wine Spectator's 'Wine of the Year' in the previous vintage; it is considered as one of the finest new world Pinot Noirs in every vintage
Antinori, Pian Delle Vigne, Brunello Di Montalcino, Tuscany, Italy 2006
93 points, Wine Spectator
Chef James and Wine Director Samantha are both passionate about Tuscan wines and delighted to feature this glorious Brunello; richly textured and showing the character of this great vintage
Fonseca, Vintage Port, Portugal 1985
Intense, full, rich, and only now beginning to show the potential of an excellent port vintage, this promises to be a memorable finish to this very special menu
Tickets are $250 per person, all-inclusive.
—–
Bubbles + Oceans Afterparty - Saturday, November 10th @ 10:00pm
After CRUSH, complete your evening at Araxi's famed Bubbles + Oceans Afterparty, and celebrate in style at the heart of Whistler Village.
This memorable night features premium bubbles from the world's top producers. Executive chef James Walt will showcase an impressive selection of the finest seafood, from freshly shucked Hollie Wood oysters and chilled BC Spot Prawns, to thrilling special additions such as Geoduck and Sea Urchin.
With the presence of music revolutionary Kytami – a new age "violinextemist" and guitarist Dallin Paul, this will truly be Cornucopia's hottest party ticket!
Tickets are $155 per person, all-inclusive.
For more info, visit: araxi.com
————————————————————————————-
TOP TABLE GROUP PRESENTS AUTUMN WINE DINNERS

Araxi, Blue Water Cafe, CinCin + West welcome top wineries
Vancouver, B.C. (October 4th, 2012) – This autumn we are pleased to present five extraordinary wine dinners at Araxi, Blue Water Cafe, CinCin and West. Our award-winning chefs will craft multi-course tasting menus to complement each evening's progression of wines. Senior representatives from select wineries will speak to the history and terroir of their estates and winemaking methods.
Adami Prosecco Dinner at Blue Water Cafe
Join Wine Director Andrea Vescovi as he welcomes Enrico Valleferro, Export Manager for Adami, to Canada's first Prosecco-themed dinner. Adami has been recognized as the region's benchmark producer by Gambero Rosso. This sparkling evening will feature an exquisite menu by Executive Chef Frank Pabst with commentary by Enrico Valleferro on the diversity of Prosecco.
Date: Tuesday, October 9th
Time: 6:30 pm
Special Guest: Enrico Valleferro, Adami Export Manager
Price: $105 plus tax and gratuity
Reservations: please contact Stephan Cachard at stephan@bluewatercafe.net or 604 688 8078
Township 7 Dinner at Blue Water Cafe

Join Wine Director Andrea Vescovi as he welcomes Mike Raffan, proprietor of Naramata's Township 7 Winery, to Blue Water Cafe. Township 7's winemaker Bradley Cooper is known for his artisanal approach to crafting fine wines—whereby minimal intervention in the winemaking process enables wines of character, grace and passion. Mike Raffan will introduce each wine, paired with a sensational ingredient-driven menu crafted by Blue Water Cafe's renowned Executive Chef, Frank Pabst.
Date: Sunday, November 4th
Time: 6:30 pm
Special Guest: Mike Raffan, Proprietor of Township 7
Price: $105 plus tax and gratuity
Reservations: please contact Stephan Cachard at stephan@bluewatercafe.net or 604 688 8078
Sandhill Winemaker's Dinner at West
Restaurant + Wine Director, Owen Knowlton, looks forward to welcoming Sandhill's legendary Master Winemaker Howard Soon to West. Howard is a 2012 BC Restaurant Hall of Fame Inductee and will be presenting reserve wines from Sandhill's Small Lots Program. The wines will be piared with a unique seasonal menu crafted by West Executive Chef Quang Dang.
Date: Tuesday, November 27th
Time: 6:30 pm
Special Guest: Master Winemaker Howard Soon
Price: $100 plus tax and gratuity
Reservations: please contact Owen Knowlton at owen@westrestaurant.com or 604 738 8938
And Stay Tuned…
Antinori Estate Wine Dinner at CinCin (late November)
This spectacular evening will feature some of Antinori's top wines, including Guado Al Tasso and Tignanello – paired with a dedicated specialty menu from Executive Chef Andrew Richardson. Details to follow.
————————————————————————————-
HAWKSWORTH ANNOUNCES ZERO PROOF PAIRINGS 
Elegant and refined alcohol-free sippers crafted to complement Chef's Tasting Menu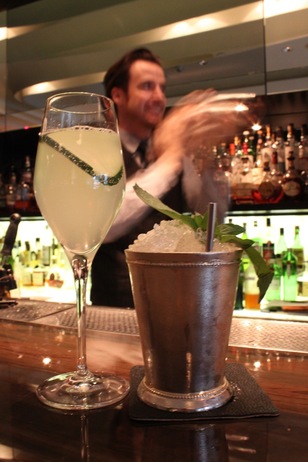 Vancouver, BC (September 27, 2012): Hawksworth Restaurant & Bar is adding another dimension to their award-winning bar program with the introduction of Zero Proof cocktail pairings, as an alternative complement to the Chef's Tasting Menu.
Hawksworth's Zero Proof cocktails are expertly crafted by a skilled team of bartenders. Made with fresh juices, herbs and house-made aromatic sprays, the Zero Proof pairings are expertly designed with food-friendly flavours in mind, as well as being a lighter alternative to wine pairings.
"We have modeled our Zero Proof pairing to be comparable with an equivalent wine varietal that would usually feature alongside each of the five tasting menu courses," Bar & Lounge Manager Brad Stanton explains. "For example, as an alternative to the 09 Hecht & Bannier Saint Chinian, currently paired with a main course of Angus Beef Tenderloin, we offer a Zero Proof Blackberry Peppercorn Coupe which echoes the same notes of savory ripe dark berry fruit and pepper spice that are found in the wine."
The concept behind introducing Zero Proof pairings is to enhance the dining experience for all guests. Stanton continues, "If a guest opts not to pair their dinner with wine, they often steer towards soda or still water – our Zero Proof pairings showcase the skills of our bar team as well as presenting a beautifully balanced complement, which has been purposefully paired with elements of the dish."
Chef's Tasting Menu and both wine and Zero Proof offerings change frequently, reflecting seasonality of ingredients and the Chef's inspirations. Currently, the Zero Proof pairing program features: Sparkling Elderflower Sour; Shiso, Cilantro and Lime Fizz; Lemon Basil Ice-Tea Julep; Grapefruit, Ginger & Mint Mule; Blackberry Peppercorn Coupe; and a Mixed Berry & Almond Melody.
Integrated visually with wine offerings to blend effortlessly with the sophistication of the occasion, Zero Proof cocktails prove to be most rewarding in the moment of "cheers" – with every guest raising an elegant glass to the enjoyment of the evening.
For more information or to make a reservation, visit www.hawksworthrestaurant.com.
————————————————————————————-
THE BIMINI 'DO-IT-YOURSELF' CAESAR BAR CONTINUES INTO NFL WEEK 5
Each and every week we bring in a selection of garnishes of all sorts and sizes. We are offering Mott's Clamato Caesars made with Absolut vodka and Beefeater gin. Caesars start at $5 which includes the Caesar and choice of 3 over the top garnish options ($0.50 for extra garnish)
We photograph every Caesar cocktail that is made and our staff vote on the best looking Caesar created each week. The weekly winner receives a $25 gift card to be used at Bimini. During the playoffs, the 17 winners will compete to win a Superbowl viewing package at Lamplighter Pub.
For more info, visit: donnellygroup.ca
————————————————————————————-
TRANSPORT YOURSELF TO THE WARM CLIMES AND EARTHY FOODS OF UMBRIA AT CIBO'S NEXT ITALIAN REGIONAL DINNER ON OCTOBER 24TH
Vancouver, B.C. – Umbria – the romantic stories and sights of this landlocked beautiful region have been told to us through innumerable films, novels and paintings.  Now, you can enjoy the bounty of this land with its fertile fields that result in the finest of meats and produce at Cibo's Umbrian Regional Dinner on Wednesday, October 24 for just $48.00(excluding  taxes and gratuities).
All palates will be enamored with the varied Umbrian cuisine – the very best in meat is showcased in pork where masterful butchers turn out sturdy sausages, salamis and hams.  Strong cheeses, lentils and exquisite truffles will also take centre stage when Chef Faizal Kassam turns these old world ingredients into vibrant, rustic dishes using the best in local and sustainable produce.  "Umbria presents a fantastic opportunity to showcase a wide range of dishes that are deep in flavor, but uncomplicated in their approachability," says Chef Faizal.  For just $48.00 for five courses, Cibo's Umbria menu features:


Bruschetta-Umbrian black truffles, anchovy and butter
Umbrian lentils with house made cotechino sausage
Hand cut pasta with wild mushrooms, butter, garlic, parsley and lemon
Porchetta roasted suckling pork, crackling, stuffing, mustard fruits
"Baci" – dark chocolate and hazelnuts
 Umbria's mild climate is also ideal for growing grapes and many superb red and white wines come from this region.  Wine Director and General Manager Steve Edwards will be on hand to offer advice and wine pairings to enhance your dining experience.
To make a reservation, please contact Cibo Trattoria at 604-602-9570 or info@cibotrattoria.ca
—–
CIBO IS NOW OPEN FOR BREAKFAST AND LUNCH
Now you can enjoy the fresh, organic and local products that Cibo is famous for in our newly expanded breakfast and lunch menu.
Click to view the full breakfast and lunch menus.
Breakfast Monday through Friday 7 am – 11 am
Brunch Saturday and Sunday 7 am – 2 pm
Lunch Monday through Friday noon – 2 pm
For reservations please call 604-602-9750 or online at cibotrattoria.ca