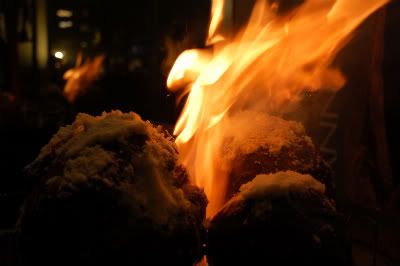 pH5: the slightly acidic state at which an animal's muscle tissues come to rest after slaughter. With pH7 as neutral, it's slightly left of centre but not radically so—figuratively speaking, it denotes an environment ripe for change. An apt moniker for chef David Gunawan's latest adventure.
The former executive chef of West Restaurant recently returned from a three-month stage at Belgium's Indewulf with renewed focus and passion for his craft. David's travels through Spain, Flanders and the Nordic region spurred a leap in his already-evolving culinary approach, inspired in no small part by the simplest of dishes: "Prawns grilled over homemade charcoal at Asador Extebarri and served completely unadorned except for a sprinkling of sea salt. That's it. Nothing to compete with the gentle smokiness, the prawns' delicate sweetness. No excess of ingredients to hide behind. Just two elements on a plate. One dish at Noma had more components to it than my entire tasting menu at Extebarri."
He poured his newfound inspiration into conceptualizing pH5, a cooperative food and dining movement that "rebels against convention and current trends while embracing the land and the purity of the ingredients that it offers us." Its goal: to bring people's focus squarely back to the essence of food and drink at its most basic through an ongoing series of thematic meals and events.
Participating in pH5 will be farmers, purveyors, cooks, sommeliers and barmen who are just as passionate about the integrity of the process as they are about the finished product. Beyond the plate and the glass, though, David aims to remove the formality of fine dining and cultivate a relaxed, unpretentious experience.
pH5's inaugural five-course $70 menu celebrated vegetables in all of their simple glory. He explains, "I wanted to create a different persona for vegetables, equating if not exalting their status among other culinary ingredients. Each dish highlighted the distinctive flavour profile of each individual vegetable, although certain dishes emulated the environment in which the vegetables were found."
The gauntlet he threw down for himself? Three elements on a plate and nothing more. Parings featured Osake by Masa Shiroki of Granville Island's Artisan Sake Maker and imaginative cocktail creations by Tanya Roussy of Maenam. David offers his reflections on the evening's dishes:
"This dish was inspired by my meal at Relæ, a Danish restaurant that strongly emphasizes vegetable cookery. I wanted to highlight kohlrabi, an under-recognized ingredient, using the comforting taste of pear as a familiar flavour reference. Salting the pears eliminated their dominant sweetness and allowed the kohlrabi to shine."
"We treated cabbage as meat—cured it in salt, sugar and spices, similar to making a pastrami. By smoking it whole over charcoal at low heat, we charred the outer layer while preserving the texture of the inner layer. The results were more than surprising because the outer layer tasted fermented with a lot of umami, while the inside remained blissfully sweet—just like the core of a medium-rare beef."
"Finished this dish with burnt hay to mirror the way farmers would burn their fields at the end of harvest."
"Two different sunchokes. The hard white skin was charred to create a crispy texture while keeping it soft inside. The red was half boiled before roasting in the oven to retain its pure flavour."
pH5 meals will be held once weekly until April when they'll shift to a monthly schedule. The next five-course dinner is slated for Wednesday, January 25 and a limited number of seats are still available. If you'd like to attend, be put on the mailing list for future events, or contribute your time and talents and participate, please email David Gunawan directly at ph5dining@gmail.com.